How do you remove propolis stains?
Propolis comes in different forms and variations. The propolis tincture is one of the most popular, as it is easy to apply directly (e.g. gums, nails, warts, skin) and is also particularly suitable for oral intake.
Propolis has a warm yellow-brown color, sometimes darker and reddish. So it is not a colorless substance. In addition, propolis can be quite stubborn if it gets on surfaces or clothing. It is therefore recommended to always let propolis dry thoroughly when applying it to the desired areas.

But even if something goes wrong, propolis can be removed relatively easily with simple means. We'll tell you how to do it.

Why does propolis leave stains?

Propolis is also known as the protective resin of bees. Bees have always used propolis to protect themselves from viruses, germs, bacteria, fungi and parasites and keep them out of the beehive with the help of propolis. Propolis consists of resins, beeswax, essential oil, pollen, nutrients and a small amount of organic substances.

In particular, the contained natural resin is a sticky and water-insoluble substance that also contains propolis tincture. Depending on the propolis, proportion more or less. In any case, the tincture cannot be easily dissolved and removed with water.
only € 9,99


Propolis on smooth surfaces

If the propolis tincture accidentally gets on a smooth surface such as the kitchen worktop, the sink or the floor, it can be removed relatively easily. The good news is that propolis dissolves in alcohol, which is why propolis tinctures are usually made from high-quality pharmacist-grade alcohol.

Due to this property, the stain can simply be removed with a little bit of spirit or another cleaner with alcohol. If you do not have such a cleaner on hand, you can also go to the house bar and try some vodka or schnapps.

Simply drizzle some spirit, detergent or alcohol on a kitchen towel and rub the stain away. Then rub with a damp cloth to remove the alcohol residue.
Propolis on porous surfaces

Now it gets a little more difficult, because propolis is not as easy to remove on structured, porous and roughened surfaces as it is on smooth surfaces. The problem is often the surface structure and the color fastness of the same. You should therefore try a small area to see how alcohol affects the surface and the color fastness. Find a suitable job that you treat with alcohol or spirit. If the color and structure are retained, you can treat the stain by carefully dabbing and lightly rubbing with the alcoholic solution (multiple dabs are usually sufficient and do not damage the surface too much). If this does not work, you will unfortunately have to get a stain remover specially tailored for the nature of the surface.

Propolis on clothes

As already described, it is strongly recommended to let propolis dry completely when applying it to the body before putting clothes on it. Because: Propolis stains on items of clothing can almost never be completely removed. If such a mishap happens to you, you can try an alcoholic solution to get rid of the stain as best you can or to pretreat the item of clothing. You should then wash the garment as hot as possible. And of course it depends on the fabric. Robust denim is certainly not as sensitive as silk. So: Particular caution is required here.

Propolis on the skin

Propolis tincture is often used directly on the skin. The removal of propolis from the skin is also not a problem. With Sterillium you can remove propolis from the skin quickly and easily. Sterillium is gentle on the skin, moisturizing and also inexpensive. Propolis can thus be completely removed without skin irritation.

Water-based alcohol-free propolis

Propolis is not only soluble in alcohol, but also in a few other substances. e.g. in cosmetic propylene glycol and glycerine. Propolis thus completely dissolves in the water. Propolis stains from an alcohol-free propolis tincture do not appear so easily and can usually be removed without alcohol and only with water. The disadvantage: non-alcoholic tinctures contain a maximum propolis content of 10%.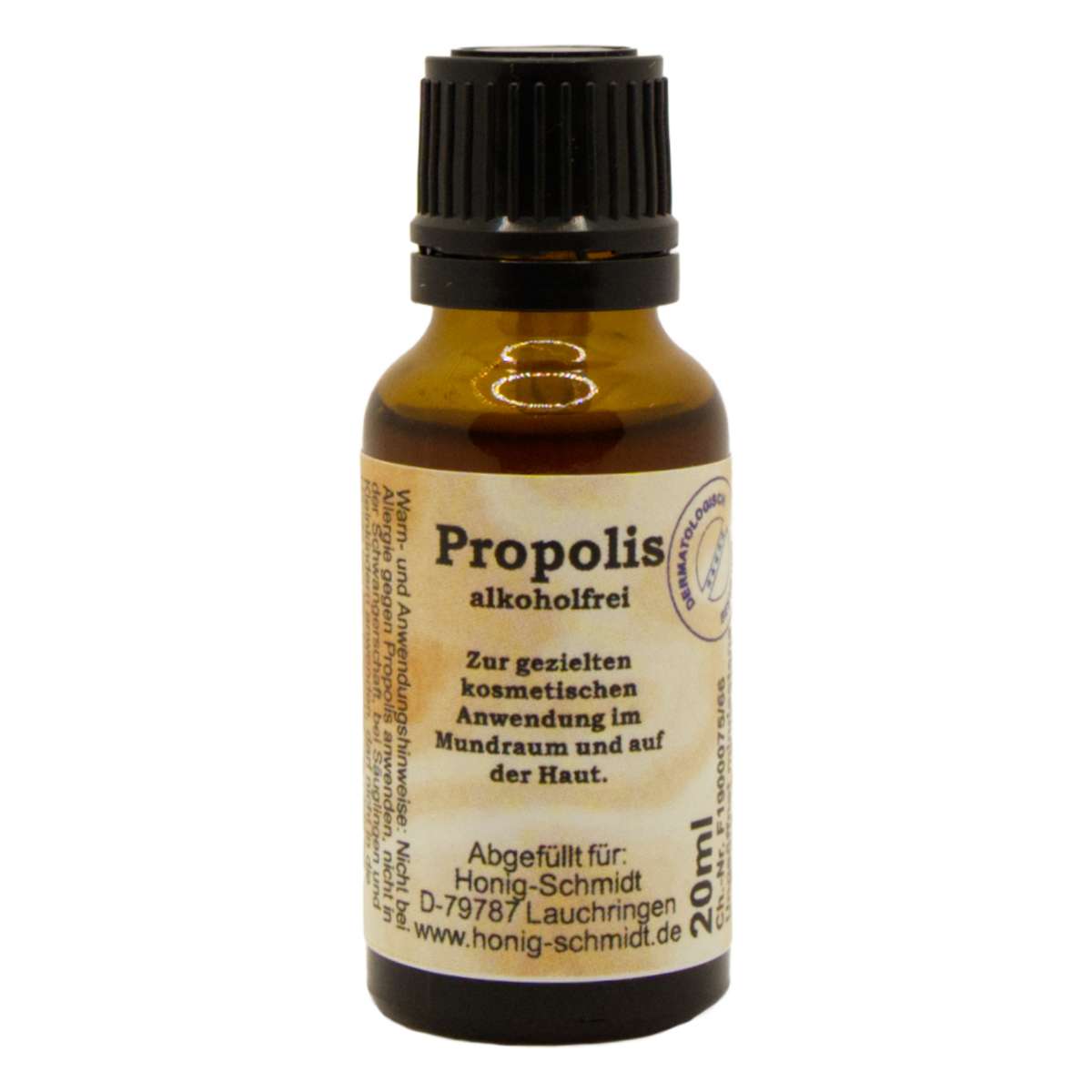 Propolis drops without alkohol
€ 8,90
Conclusion: A little caution when applying propolis is advisable. A good variant is applying propolis tincture with a cotton swab.
In our shop you can buy many product variations with propolis.
Your Honig Schmidt Team